Online coaching: here to stay?
February 24, 2023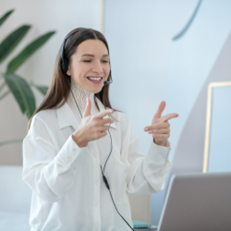 My coach's approach was pitched just right - she spent time to properly understand my context and circumstances and tailored her support precisely as a result. It has been the most effective and impactful support I have ever received in a work context.
Excellent and helped me understand my thinking and reaction to everything. Very understanding and supportive.
The attention to detail and empathy is extremely high. Able to build trust and understanding at pace is exceptional.
When asked about the transition to online coaching, it was not a surprise that:
80% felt online coaching was easier to schedule / fit into their working day
67% felt this offered then more flexibility in terms of their / their coach's availability
However, some comments are worth reflecting on:
Most of the coachees felt that coaching online made the relationship building harder at the start of the coaching programme; though many of them felt this was an issue more for the coach than for them.
Nearly 50% of coachees also felt aware and potentially distracted by seeing themselves on screen during the conversation. There is some research that suggests that this can lead to increased fatigue and also to reduced openness in a coaching session.
Some coachees felt that having time to return to their office after attending coaching helped them to process what was discussed better. 'Flipping' from an online coaching meeting to another call felt more pressured.
As a result, we have made the decision to maintain the majority of our coaching online – with the exception of the initial session, which we are now offering to clients face-to-face. We are also going to start asking our coaching clients to turn off their 'self-view' when in a call. These small but important changes allow us to make the most of the logistical advantages of online coaching whilst maintaining the high quality standards we are proud of. For more information on coaching, contact chiara@keilcentre.co.uk < Learn more about our coaching services