BPS Practitioner Awards: Health & Wellbeing Project
November 13, 2008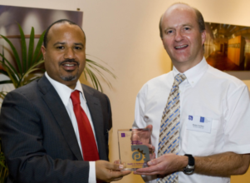 Ronny Lardner, former Director of The Keil Centre Ltd, was awarded the Health and Wellbeing Project Award at the British Psychological Society's Occupational Psychology 2008 Practitioner Awards.
The award committee commented on how shortlisted nominees had brought about positive change in the client organisations, been rigorous and ethical in their approach, and had applied theory in a novel and interesting way. They said that these projects were exemplars for the type of work Occupational Psychologists should be striving to produce.
Project Title: Unlocking Safety Culture Excellence – Our Behaviour is the Key
Project summary: Three international companies – Wood Group; GlaxoSmithKline and Woodside Energy - embarked on a series of linked projects to strengthen their existing safety culture, thus reducing the risk of industrial accidents. These unique projects developed and deployed a simple user-friendly method to recognise that good safety performance depends on safe thinking style and behaviour at all levels of the organisation. The method integrated existing external knowledge with company-specific examples.
Whilst the method was designed by Ronny Lardner in conjunction with each company, it was almost entirely delivered by in-company personnel, enhancing credibility and internal capacity. This was achieved whilst working with clients possessing varying levels of behavioural science knowledge and skills. Amongst the benefits were a measurable improvement in safety leadership behaviours and safety culture; a reduction in incident rates & severity; three company or industry safety awards; strong backing from workforce and unions; strengthening of each company's external reputation; and recognition and uptake of this approach by many other international companies. For more details, please click here
In 2006 Ronny and one of our directors- Richard Scaife- were joint recipients of the British Psychological Society's Division of Occupational Psychology 2006 Practitioner of the Year Award.