APPEA Health & Safety Innovation Award
November 12, 2008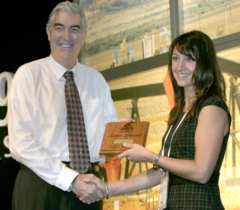 APPEA Health and Safety Innovation Award for developing and implementing their Our Safety Culture framework.

Our Safety Culture is the name Woodside gives to its Health and Safety

Behaviour Standard

, which was initially developed by The Keil Centre for Woodside Energy. Collecting the award from APPEA Chairman, Mr Eric Streitberg, on behalf of Woodside, was Human Factors Advisor, Emily Novatsis, who said receiving the award was satisfying because it recognises the work of a host of people that contributed to the development and application of the Our Safety Culture framework within Woodside. "Receiving the award is further evidence that we're on the right track, but the ongoing challenge is how we continue to reinforce the behaviours in Our Safety Culture framework to drive improved safety throughout our operations." Woodside's Our Safety Culture framework defines the positive or effective behaviours that result in excellent health and safety performance and a strong safety culture at Woodside. It also specifies the negative or ineffective behaviours that undermine or result in poor health and safety performance and a weak safety culture at Woodside.